We're a single company ready to meet all of your corporate group transportation needs reliably, professionally, and affordably.
Our company also offers employee shuttle service vehicles and drivers, and will be happy to maintain routes and schedules for you. Surveys show that this is one of the most valued perks for increasing employee loyalty. From Phoenix limo rentals to motorcoach and Bus Tours in Phoenix —we have the vehicle for you!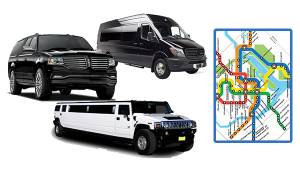 Our Phoenix shuttle service fleet spans the spectrum from vans to full-size buses. Call us for complete services as well as for shuttle bus rentals. We're confident that we can tailor contract shuttle services to perfectly match your needs and your budget.
Offering an employee commute service is one of the most popular and valued employee benefits around. And a win-win situation. Employee's love the extra convenience, not to mention avoiding the stress of traffic. You'll be building loyalty among your important employees and quite likely benefit from a little extra productivity along the way. If you're facing parking congestion, commute service shuttles may well be a more cost-effective solution than parking lot expansion when real estate is tight. Let professionals like our experienced staff and drivers take care of everything for you, including frequent route and schedule changes.
Our Phoenix shuttle service is also ideal for travel between corporate campuses, managing transportation during major construction projects, and filling gaps in public with an airport shuttle phoenix can count on. We're also experts in shuttle services for conventions and trade shows, delivering the best in comfort, dependability, and flexibility. Hotels and large corporations can contract with us for regularly scheduled airport shuttle services, and of course we're happy to arrange account billing for on-call services.
Let www.phoenixlimoservice.com handle your services so that you can focus on your company's business. You can count on our phoenix airport shuttle to provide quality on-time transportation for your employees for improved productivity and loyalty and for a lasting positive impression on event attendees.
From our town car services to our Phoenix Tour Buses and Phoenix group travel shuttle buses, we are the other transportation service you'll ever need!