Why We're the Best Phoenix AZ Charter Bus Rental Company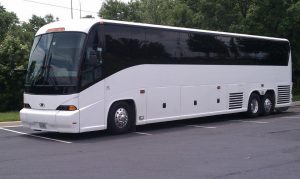 We, Phoenix AZ Charter Bus Rental Company understand it's easy to claim you're the best at something. We certainly believe we are the best charter bus rental company in the area. Not only do we offer 24/7 customer support and have one of largest fleets of available limos and buses, including coach buses and minibuses, but we also have one of the best safety records in the industry.
Charter Bus Phoenix Arizona
When it comes to any Phoenix Bus Charter service, safety should be one of the top priorities. Our Phoenix Charter Buses experienced drivers go through a rigorous safe driver training program, interview process, and consistent drug testing. All of our Phoenix Charter Buses and Scottsdale Limousines also go through regular inspections and maintenance to ensure they are in peak operating condition.
We also offer:
A luxurious experience. Since all our Phoenix Charter Buses are considered late-model, they offer a smooth, comfortable, quiet ride experience. The seats are incredibly comfortable and if they recline, depending on the bus you choose, it can provide the perfect individualized experience for each guest.
On-time service. With the latest GPS navigation equipment, incredibly well-maintained vehicles, and the most highly knowledgeable drivers, we can almost guarantee on-time arrival. Even the most overwhelming and challenging traffic delays don't slow us down much.
Incredible capacity. If you're booking charter buses for rent for just a few people, a minibus is a great option. If you're looking for something more, perhaps to handle several hundred or even up to 4,000 people at once, we have the capability to handle those size groups.
24/7 and support. As we mentioned, we have one of the only 24 hour day, 7 day week customer service support telephone numbers. Instead of having to leave a message after normal business hours, you can speak to somebody directly to ask questions, make a reservation, or make changes to an itinerary.
Complementary bottled water. You may not think about it at the time you look for a quality charter bus company, but it could be hot and your passengers, your guests, may need a drink. If you request it, our School Bus Rental Phoenix and bus transportation service also provides complementary bottled water for every single one of your guests.
Phoenix Charter Bus Rental Near Me
Perhaps you entered into a search engine, "find a charter bus near me." Proximity may be important to you, but if you want the best tour buses for rent, Limo Service Phoenix  is your best option.We, Charter Bus Phoenix AZ have an advanced online reservation system, offer immediate billing, can handle last-minute reservations, and our School Bus Rental Phoenix and Charter Bus Phoenix AZ highly experienced and knowledgeable drivers can make incredible tour guides, even if this is just for a trip to a sporting event or concert, on a shopping excursion, corporate event, or a family reunion.
Looking for reliable Phoenix Charter Bus Companies? look no further. Get instant Phoenix Charter Buses price quotes for Charter Bus Phoenix Arizona  (602) 730.7122